If you love birdwatching, astronomy, hunting, or any other activity that involves the use of optics, then you know the importance of investing in the best quality monocular or spotting scope. The two optical devices are different beasts with different capabilities suitable for different functions. Size is the most notable difference between a monocular and spotting scope but does it affect their power and performance?
Although it doesn't seem fair to pit monocular vs. spotting scope, it is important so that you know what to choose over the other depending on your needs. This article looks into the differences and similarities of the two optical devices by analyzing their key features. Read on to determine when you should consider a monocular over a spotting scope and vice versa.
Spotting Scope Overview
Essentially, a spotting scope is a mini-refracting telescope. It is a high-powered optic with large apertures that increase its ability to see objects in detail from as far as 100 yards away.
Main parts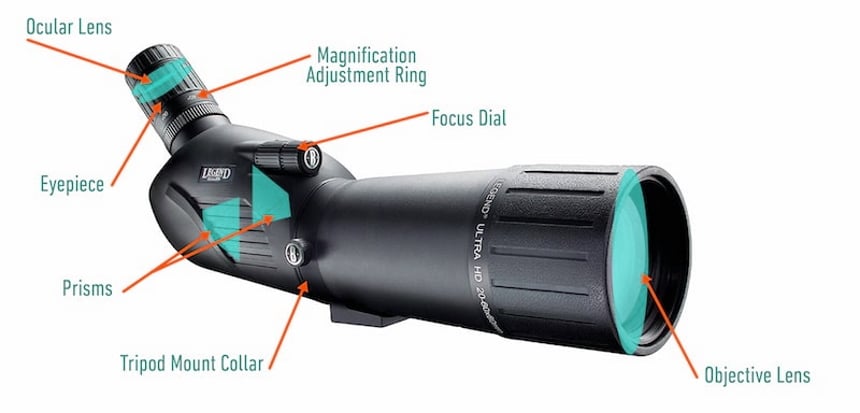 Ocular lens: this is the lens nearest to the eye through which you look to observe objects.
Eye cap:  also known as an eye shield, this is a flexible rubber component meant to protect your peripheral vision against light, dust, or wind. It also prevents glare caused by light on the ocular lens and minimizes distractions. You can use it with glasses when you extend or contract it.
Objective lens: these are lenses located on the furthest end from your eye, and they point at the object in view.
Objective and ocular lens caps; these are rubber cases that protect the lenses from getting damaged by water, dirt, and impact during movement or in storage.
Focus ring: this allows you to adjust the focus for a clear image. Some models come with a focus knob instead, and some even have a dual focus system with fine and coarse adjustments.
Tripod; a spotting scope, comes with a large objective lens and higher magnification. Therefore, you need a foldable tripod to mount it on for support and to limit vibrations for steady viewing.
Zoom adjustment: most spotting scopes offer the option of operating between zoom magnification and fixed length. When you zoom, you can find objects at low magnification and then widen the field of view and magnify them for a closer, detailed look.
Lens hood: also known as a lens shade, a lens hood minimizes the objective lens glare in sunny conditions.
Types
There are 2 main types of spotting scopes; straight and angled.
Straight spotting scopes: These have their eyepiece aligned with their lens to form a long tube. They are a perfect choice for beginners as object-focusing is much easier with them. The only downside of straight spotting scopes is that they cause great discomfort and neck pains if you observe your object for extended periods.
Angled spotting scopes: An angled spotting scope has its eyepiece set at a 45 to 90 degrees angle from the lens. Compared to straight spotting scopes, angled spotting scopes are more user-friendly as they allow you to adjust viewing positions whenever you like.
Pros and cons
Pros
High-powered
More light collection
Best for extended viewing
Great for glassing and long-range shooting
Great for low-light use
Ideal for terrestrial views and outdoor adventures
Come in a wide range of powers
Powerful zooming and magnification powers.
Cons
Require a tripod and other accessories that hike up the overall cost
Gives dark images at high magnifications
Heavy and inconvenient to carry around
The Leupold SX-2 Alpine spotting scope is one of the most popular scopes, highly acclaimed by serious hunters and shooters. The scope features a clear glass and an oversized eyepiece that offer HD performance. Plus, it boasts a rugged design that can withstand all kinds of weather.
Monocular Overview
Monoculars have so much in common with spotting scopes, except they are smaller in size and have less power and capabilities.
Main parts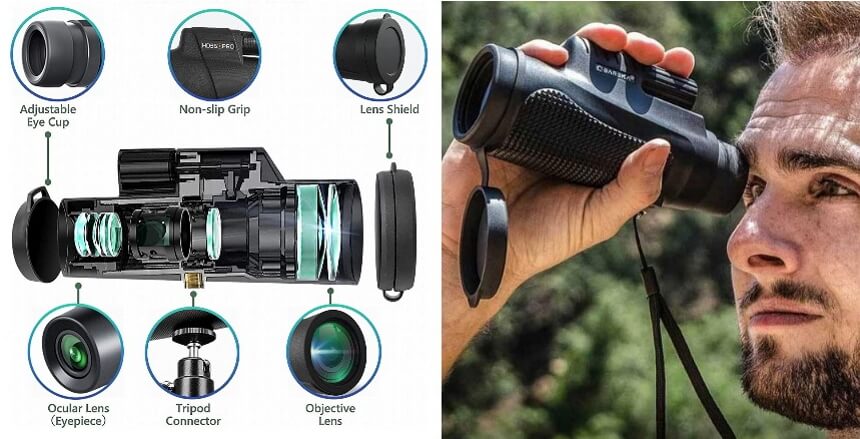 Head: this offers support to the eyepiece and connects it to the objective lens.
Zoom knob: Monocular models that have variable zoom come with a zoom knob to allow you to adjust the zooming power. A standard monocular has a zooming power of 8x.
Eyepiece: this is what you look through to view an object.
Nose piece: a rotatable part that holds and selects the objective lens.
Focus ring: some monocular have the focusing ring around their body, while others use a focusing lever or slider button instead.
Arm: this supports the monocular's head and connects it to the base.
Eyecup: this is meant to shield your eye, and it can be twisted.
Types
There are different types of monoculars.
Compact monoculars: Monoculars are generally small optical devices, but there is a particular type that is smaller than the standard size. Compact monoculars are smaller by a few inches and can easily fit into your trouser or jacket pockets. Although they are easily portable, compact monoculars have lower magnification with smaller lens diameter, thus ideal for simple viewing only.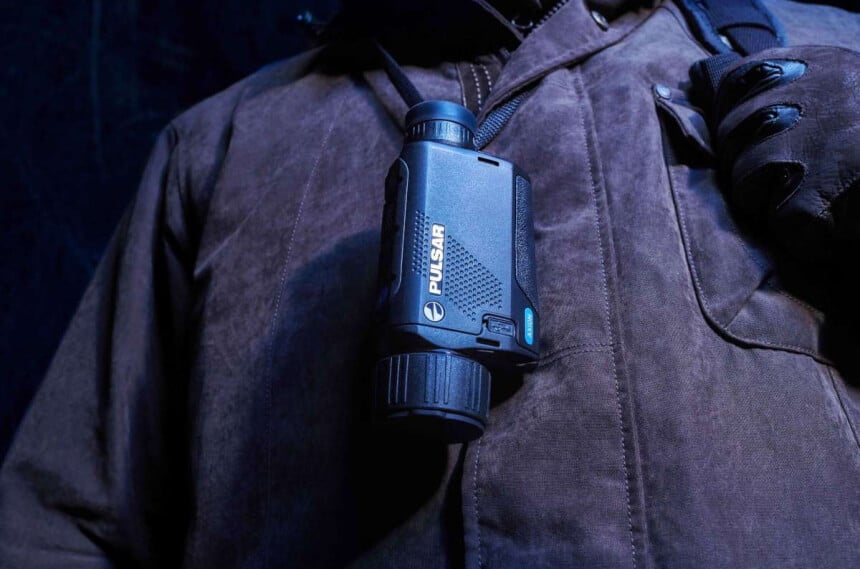 Thermal imaging monocular: This is mostly used at night in the dark by hunters or research scientists looking for animals that camouflage at night. The thermal imagine monocular picks up the heat from the animals' body then converts it to images. Have a look at some of the best thermal monoculars on the market.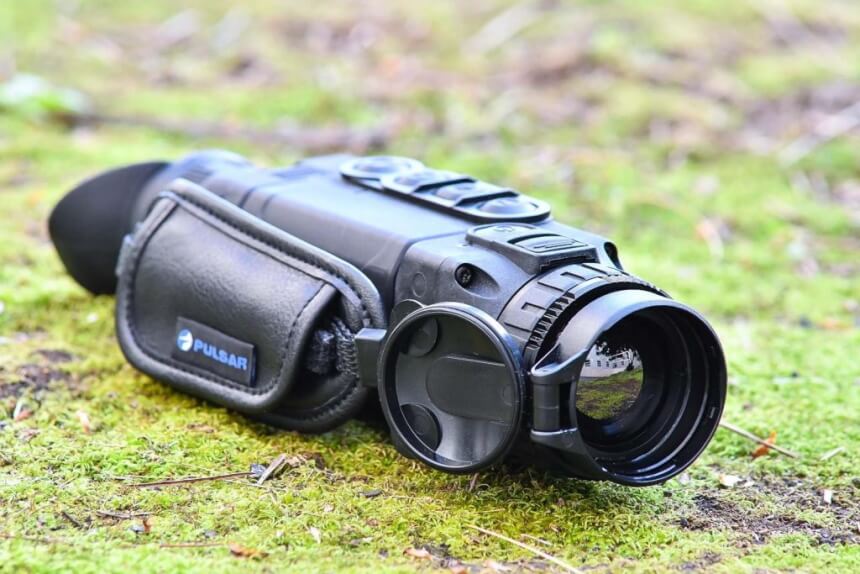 Infrared monoculars: Instead of using light, infrared monoculars illuminate objects in the dark with different wavelengths. They are very affordable and user-friendly.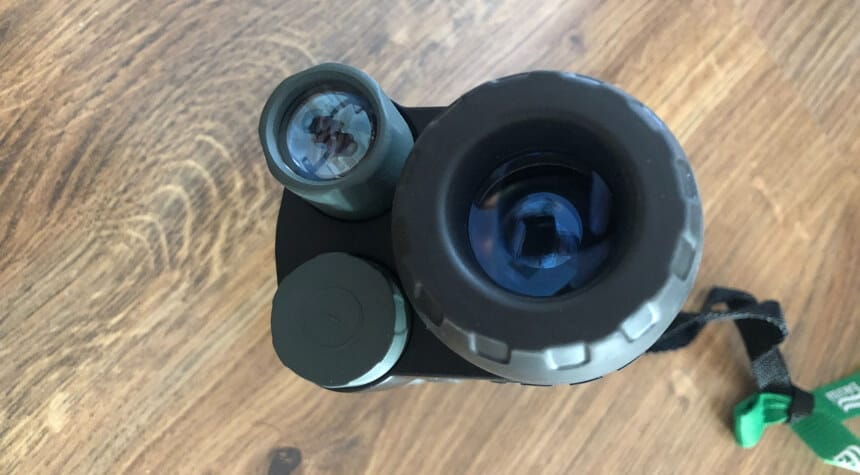 Night vision monocular: this features both infrared and thermal imaging technologies. You can use it during the day and at night, thus an excellent value for your money. Do you need the best night vision monocular and wonder what the parameters might be?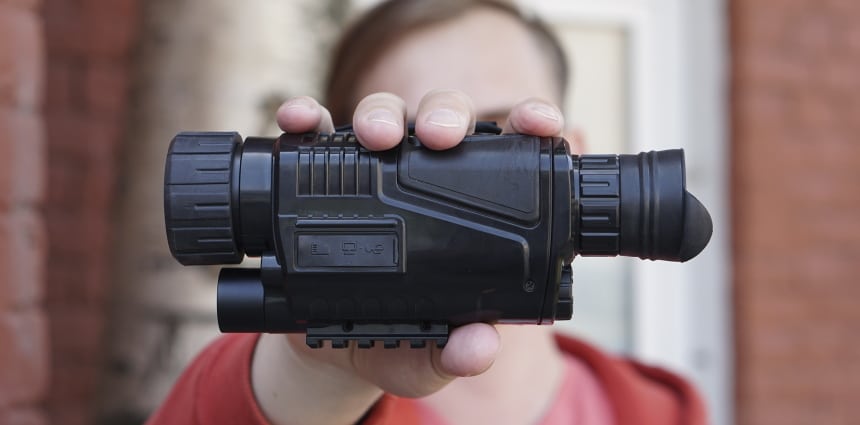 Pros and cons
Pros
Compact and easily portable
Inexpensive, thus ideal for beginners
Easy setup
Ideal for brief viewing and mere observations
Cons
Less powerful
Come with one fixed eyepiece
Not the best for viewing moving objects
At higher magnification, monoculars' field of view becomes smaller, affecting the brightness of the images
According to most reviews, the Vortex Solo is the sturdiest monocular model that money can buy. It is small and lightweight, with fully multi-coated lenses that maximize light transmission and resolution to give you bright and clear images.
Difference between Spotting Scope vs Monocular
Here is a quick rundown of the main differences between a monocular and spotting scope;
Magnification
Spotting scopes have more magnification power than monoculars. The magnification power of spotting scopes ranges from 20x to 60x, while that of monoculars varies from 4x to 12x. Both devices offer the ability to adjust magnification so you can see objects clearly from a far distance.
Depending on your model, you can either zoom in with a single eyepiece or switch fixed length eyepieces. Eyepieces with fixed focal length are the best at gathering light while zoom eyepieces are the best at widening field of view. All in all, keep in mind that high magnification reduces the field of view and increases vibrations resulting in poor clarity and dark images.
Field of use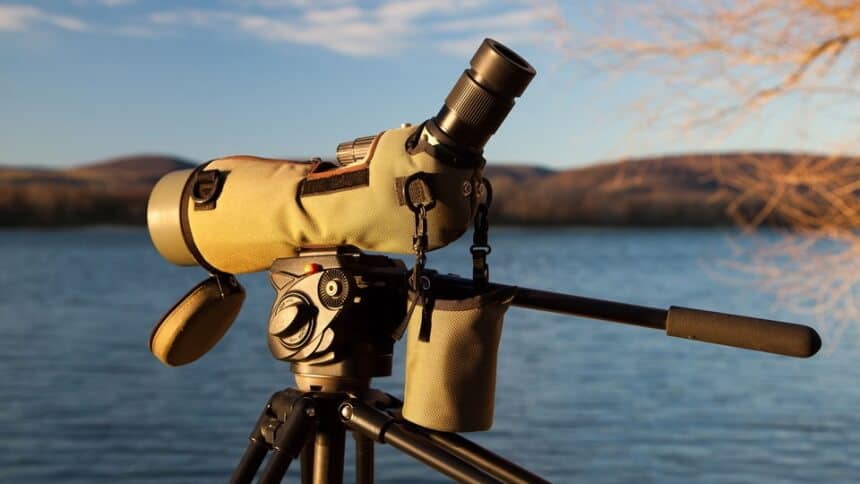 You have to figure out what you need the monocular or spotting scope for before purchasing either. Both devices are suitable for different uses. For instance, you'd be better off with a spotting scope as an amateur astronomer because it has a higher magnification power. For backpacking, a monocular is better because it is lightweight and compact, thus wouldn't weigh you down during a hike or long trek.
Eyepieces
Monoculars and spotting scopes have varying eyepiece designs. Some models have the fixed eyepiece while others have the zoom eyepiece. Some gave the removable design while others have the non-removable design. The spotting scopes with removable eyepieces are more flexible as they give you room to work with any magnification that's between 20x and 60x.
Glass quality
Glass quality is an essential consideration for both spotting scopes and monoculars because it is the component that determines the image quality that is delivered to the user's eyes. A cheaper low-quality glass will give you the dullest images because it will keep blocking the amount of light trying to pass through.
A high-quality spotting scope or monocular will have coated lenses that improve light transmission to give you bright and clear images.
Field of view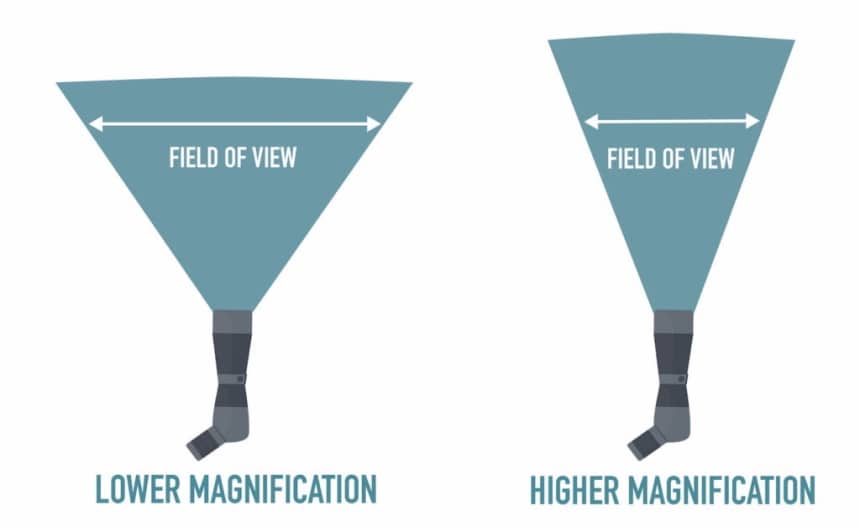 This is the widest measurement you can view through the spotting scope or monocular. For moving objects and clearer details, a wide field of view is ideal. Spotting scopes have a wider field of view than monoculars, allowing you to see a lot of detail at once.
Price
Spotting scopes are pricier than monoculars because they have larger features, advanced functions and better capacity. They also need tripods and other accessories which increase their overall price point. Thanks to technological advancements, you can find compact spotting scopes at reasonable price points.
Which Should You Choose?
What are these optical aids best suited for?
Choose spotting scope if
You need an optical aid for astronomy: A spotting scope and a telescope have very few differences. Unlike a telescope, a spotting scope is smaller, much easier to use, and it produces an image right side up and correct from left to right. Telescopes produce an upside down or reversed image. Compared to a monocular, a spotting scope has a higher magnification power that ranges from 20x to 100x. According to CNN, Trusted Source Stargazing and astronomy for beginners | CNN Underscored We've been doing it for thousands of years, but stargazing is now a truly ideal socially distant activity. We spoke with a professional to get the lowdown on what stargazing and astronomy beginners need. us.cnn.com  a spotting scope is the option you can get if you want to view some meaningful astronomical details. While it can't be compared to a telescope in viewing the night skies, it does a good job. Just ensure you invest in one with a high glass quality.
You need a decent magnification for photography: You can attach a DSLR camera to your scope's T-mount adapter whenever you need to take high-quality photos.
You want to go hunting: A spotting scope is the most ideal for hunting because of its extensive range that allows you to observe the animal from a safe distance. You will be safe yourself, and you won't scare the animal away. Some people argue that a monocular is more suitable for hunting because it is compact and easily portable, but there are compact spotting scopes that don't require tripods nowadays.
You want to watch birds from a stationary position: A spotting scope has a wider field of view than a monocular, therefore, it allows you to see a lot of details at once. This is why it is highly recommended by the science and technology directorate Trusted Source Spotting Scopes | Homeland Security Spotting scopes are monocular optical devices that focus on, and gather light from, a target to provide the user with a magnified view. These scopes, which come in a variety of configurations and sizes, are used by responders for long-range surveillance. Included reports: highlight, summary, focus group report, market survey report, and assessment report. www.dhs.gov for watching moving objects. You can set it up in your backyard and you will appreciate how effective it is at observing flying birds.
Choose monocular if
You need to go backpacking: On a long hiking trip, the last thing you want is to carry an item that will weigh you down. Therefore a monocular is the better companion as it is lightweight and compact. There are compact monoculars that can even fit in your shirt pockets.
You are bird watching on the move: If you go on a bird-watching adventure that requires you to move from one point to another to find the birds, then a monocular would be more ideal because it doesn't require any set up. Its lightweight and compact build will also be favorable for your moving situation. Are you looking for the best monocular for bird watching and you have no idea where to start?
You only need to take a quick peek at something: Since they are incredibly portable and easy to use, monoculars are the best option for a beginner looking to just peek at things from a far distance. It is also perfect for people who are partially blind in one eye, as it makes viewing much easier.
Final Thoughts
Choosing a durable and waterproof optics unit for an exciting adventure can be difficult, especially with all the options available. This monocular vs. spotting scope showdown should help you make the best informed choice when picking between the optical aids. We have provided different scenarios and recommended the best suitable option according to the individual pros and cons of each type.
Some of the factors worth considering when choosing an optical unit for a specific setting include, current weather and location, what you want to view, your tastes and preferences, and the type of activity you need the optical aid for.